Congratulations Justice O'Bonsawin
December 14, 2022
Maurice Law would like to congratulate Justice O'Bonsawin on her appointment to the Supreme Court of Canada. The most recent appointment to the Supreme Court of Canada is not only a personal milestone for Justice O'Bonsawin in her accomplished legal career, it also marks the first Indigenous appointment to the SCC in Canadian history. This is a significant milestone for all Indigenous peoples in Canada.
The swearing in ceremony included congratulations from representatives of the Federal and Provincial Ministries of Justice, and from the serving CBA president Steeves Bujold. Bradley Regehr, Partner at Maurice Law, who served as the first Indigenous President of the Canadian Bar Association in 2021, attended the swearing in ceremony to offer his congratulations (pictured above).
This is an exciting time and long overdue appointment of an Indigenous Justice to the Supreme Court of Canada. Congratulations Justice O'Bonsawin!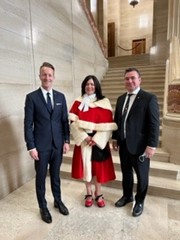 The Honourable Michelle O'Bonsawin at her swearing-in ceremony, held November 28, 2022.
(Pictured Left to Right: Steeves Bujold, CBA President, the Honourable Michelle O'Bonsawin, and Bradley D. Regehr, Partner Maurice Law)